Improving broadband connectivity is one of the goals outlined in the SIRPC's Digital Inclusion Plan. We are working with multiple institutions and communities across our region in order to identify unserved/underserved areas and advocate that these areas be included in plans to upgrade and expand broadband infrastructure.
We need your help! In order to give communities in our region the best chance for future broadband funding, we need data that reflects where the actual gaps in broadband connectivity exist. One major way to accomplish this is for Indiana residents to conduct internet speed tests. It is a test that measures how fast data can be downloaded and uploaded with the internet connection on your device.
It is vital that residents conduct as many internet speed tests as possible. There are multiple federal and state broadband funding programs for which having speed test data collected is extremely helpful. The more speed tests that are conducted in our region, the easier it makes it to get more money for broadband investment in our region later on. This means taking internet speed tests today could make the difference in how long your community remains unserved or underserved for internet connections!
How Do I Take A Speed Test?
You will be asked to fill out your address (full or partial) so it can map where you are taking the test from. Don't worry, no personal identifying information will be asked, tracking cookies are not used, and your address will not be stored in a data bank. Your location and test results, however, will be stored for the purpose of the speed test so please be sure to turn off your VPN if you are using one. Make sure the address you are entering is the location where you are actually taking the speed test.
You should conduct speed tests multiple times a day on multiple types of devices . Taking a speed test on a computer that is connected to your router via ethernet cable yields the most accurate and optimal results. But you can take them on your laptops/ tablets with wifi and **mobile devices too.
If you are in a location without internet, whether it's a home or somewhere public, please go to a place that does have internet and enter the address as one with "no available service". Again, no personal identifying information will be asked.
**IMPORTANT! If you are using a mobile device to conduct a speed test, please make sure you turn off your cellular data first and be connected via wifi. Taking the test using cellular data will not yield accurate results for the speed test, as this is to measure broadband speeds in your area, not cellular data speeds.
Broadband Ready Communities
The Broadband Ready Communities Program was created by the State to encourage broadband development in Indiana.
What it means to be Broadband Ready
Being a Broadband Ready Community means that our community has taken steps to remove barriers to broadband deployment. This designation doesn't necessarily guarantee that a Broadband Ready designated community will receive investment proposals. However, it does send a signal to area broadband partners and telecommunication providers that that county, town, or city is open to discussions for new ideas on how to improve internet connectivity in order to bring reliable and affordable broadband to every county resident who desires it. A community that is awarded this certification often sees benefits such as more open communication with area providers concerning broadband plans and could put communities with the designation in a more advantageous position to see increased economic benefits in the future.
Four different county or city/town governments have already completed the steps to become a Broadband Ready Community. Additionally, there are seven broadband taskforces made up of community leaders from a multitude of organizations working on behalf of their communities in the SIRPC region. So far, the SIRPC has been directly involved in establishing five of the seven taskforces, and is working to assist any remaining communities in our region who are interested in establishing Broadband Taskforces for participation in the Broadband Ready Communities Program. The superb members of these Taskforces work hard on behalf of their communities to help prepare the way for broadband and digital inclusion initiatives which will help ensure our region is able to close its digital gaps.
Certified Broadband Ready Communities in the SIRPC region (with taskforces):
Switzerland County
City of Greensburg (Decatur)
Jefferson County
Shelby County
Broadband Taskforces in the SIRPC region:
Dearborn& Ohio County Broadband and Digital Inclusion Taskforce
Jennings County
Check out the map here!
Indiana Connectivity Program
What is the ICP?
The Indiana Connectivity Program is designed to assist in the expense of extending broadband service, usually fiber optic lines, to Indiana residents and businesses without broadband internet. It works in conjunction with the State's Next Level Connections funding program by having consumers log their addresses where they do not have adequate or any internet service. Internet Service Providers will have the opportunity to review these locations and submit bids to the state on the cost of providing service to these locations. OCRA will evaluate these bids and make awards to the providers whose bids present the lowest cost to the state for extension of the service.
Find more information at OCRA: Indiana Connectivity Program
Who is eligible?
Residents and business owners in unserved or underserved areas (access to actual speeds less than 25Mbps download and 3Mbps upload). Up to $4800 will be allocated for individual houses/businesses and $25,000 for a line serving a group of residents or businesses.
If I submit my address, does it mean I will get internet?
Unfortunately, entering the address of your home or business does not guarantee that your location will be bid on to provide service. If a bid is awarded, please know that it could still be months or longer before a line is extended to provide internet service to you. Most timelines include a minimum of two years.
Affordable Connectivity Program
What is the ACP?
The Affordable Connectivity Program is a federal government program run by the FCC to help assist individuals and families with overcoming price barriers to internet access. It can help cover the cost of broadband used for school, work, healthcare and more.
How does the ACP work?
If you qualify for the program, it provides a subsidy benefit of up to $30 for most Americans, and up to $75 for Americans on Tribal lands to cover the cost of internet. You can also receive a one-time discount of up to $100 to purchase a laptop, desktop computer, or tablet from participating providers if they contribute more than $10 and less than $50 toward the purchase price.
This benefit is designed to be used in conjunction with an internet service provider's existing plan. To aid in this effort, many ISPs have created special plans that can fully cover the cost of internet, or at least provide a substantial discount.
Who is eligible?
Per the FCC website, entities eligible for the ACP include: Households where income is at or below 200% of the Federal Poverty Guidelines, or if a member of the household meets at least one of the criteria below:
Received a Federal Pell Grant during the current award year;
Meets the eligibility criteria for a participating provider's existing low-income internet program;
Participates in one of these assistance programs:

The National School Lunch Program or the School Breakfast Program, including through the USDA Community Eligibility Provision;
SNAP
Medicaid
Federal Public Housing Assistance
Supplemental Security Income (SSI)
WIC
Veterans Pension or Survivor Benefits
or Lifeline;

Participates in one of these assistance programs and lives on Qualifying Tribal lands:

Bureau of Indian Affairs General Assistance
Tribal TANF
Food Distribution Program on Indian Reservations
Tribal Head Start (income based)
Want to know which providers in your state participate in the ACP? Use this tool here.
There is a limit of one monthly service discount and one device discount per household under the Affordable Connectivity Program.
If you would like to learn more information about the Affordable Connectivity Program, or want to sign up, please visit this link to enroll online. To apply by mail, print this form and mail it to:
USAC ACP Support Center
P.O. Box 7081
London, KY 40742
You can also contact your current internet service provider for help in getting enrolled.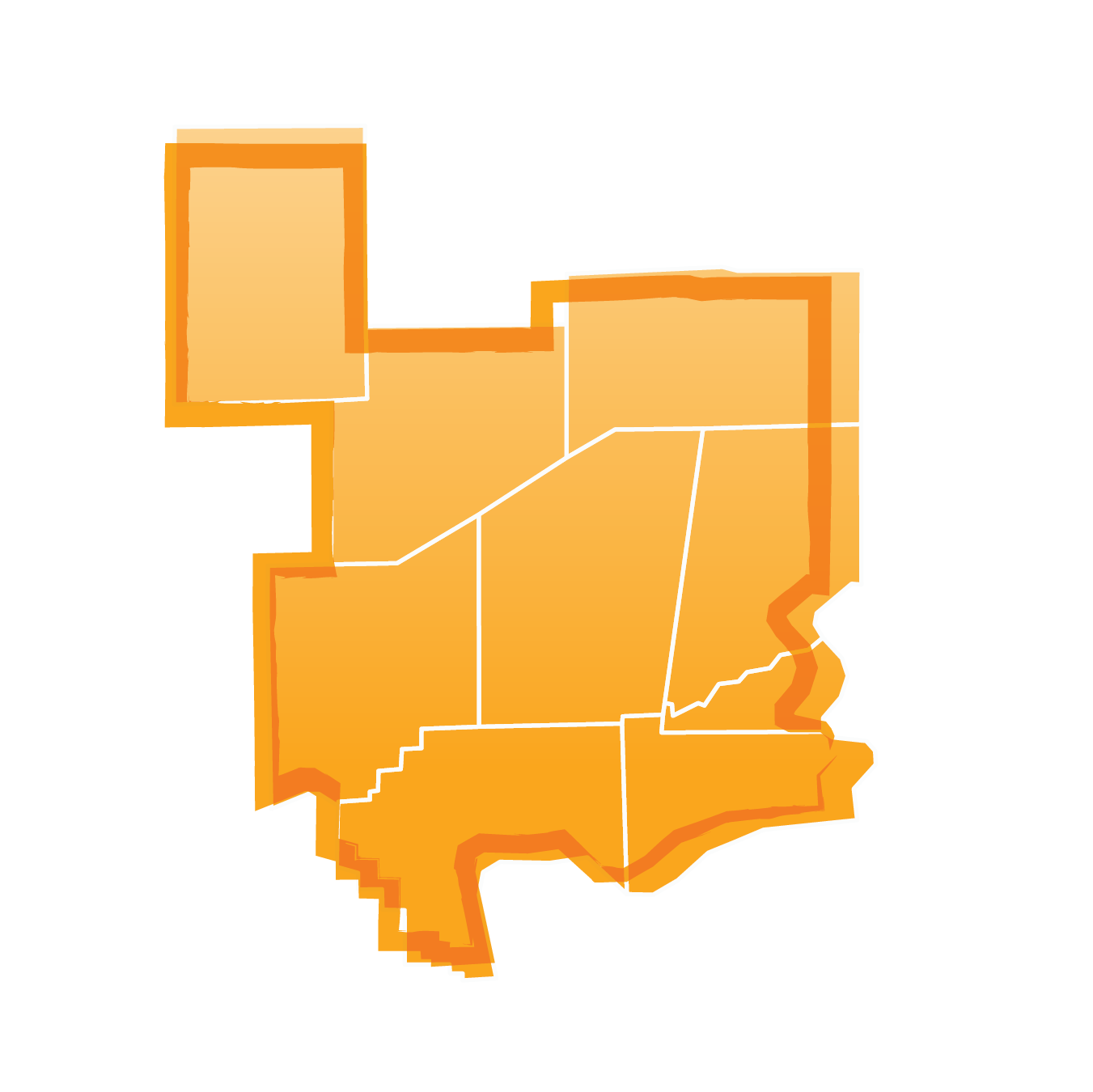 FCC Broadband Map& Challenge Process
Broadband Data Collection | Federal Communications Commission (fcc.gov)
A great portion of how broadband funding is being dispersed to states and territories will be heavily influenced by the FCC's Broadband Map. Help ensure the make is accurate by checking your address and submitting a location or availability challenge if you think the information is incorrect.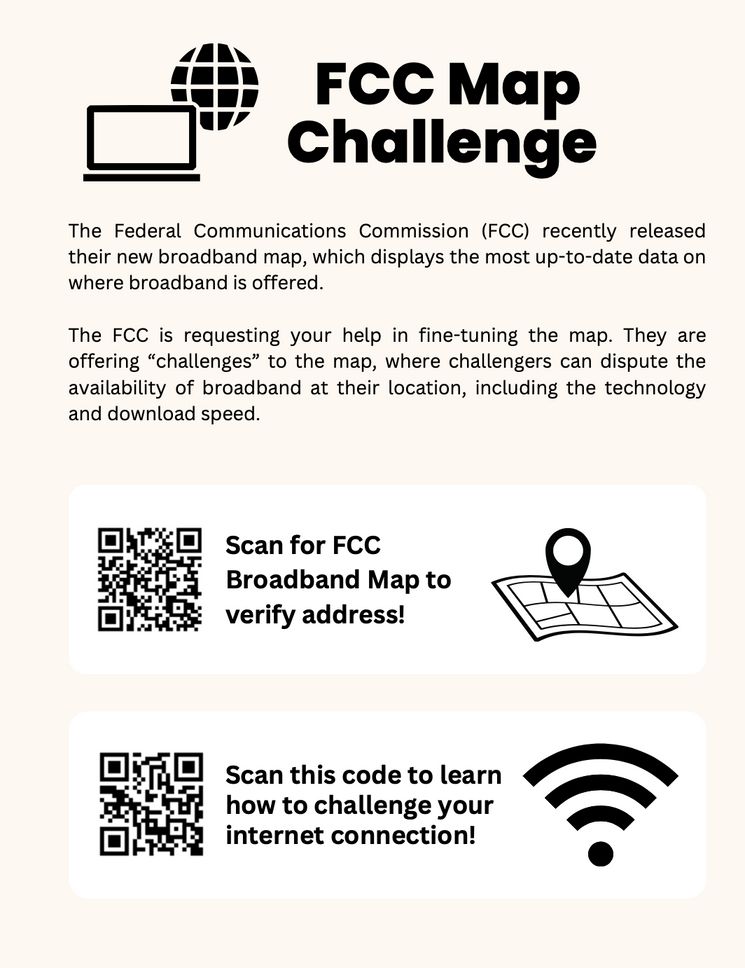 To learn more about how to submit location and/or availability challenges, visit this page here or watch this short tutorial.